Next

Game
GCS vs Clarksville

August 22, 2014
2013

Schedule
Date

Team

S

Score

22-Aug

Clarksville

A

22

21

30-Aug

FRA

H

14

21

6-Sep

BGA

A

14

35

13-Sep

Cane Ridge

H

32

20

20-Sep

Trousdale County

H

0

21

27-Sep

Lipscomb

A

14

31

4-Oct

Red Boiling Springs

A

35

0

11-Oct

Maplewood

H

17

35

25-Oct

Watertown

H

62

33

1-Nov

Gordonsville

A

28

14

8-Nov

Jackson County

H

27

0

15-Nov

Trousdale County

A

19

31
2013

Standings
| | | | | |
| --- | --- | --- | --- | --- |
| Team | | | | |
| Trousdale Co | 10 | 0 | 4 | 0 |
| Goodpasture | 5 | 5 | 3 | 1 |
| Gordonsville | 5 | 5 | 2 | 2 |
| Watertown | 2 | 8 | 1 | 3 |
| Red Boiling | 2 | 8 | 0 | 3 |
19 June 2014
Hits: 41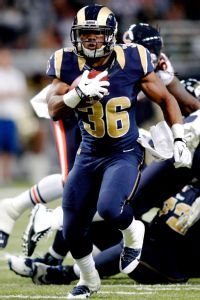 Benny has shown his tenacity, becoming an undrafted Rookie last season as a Walk-On with the St. Louis Rams. He earned his spot on the 53-man roster by rushing 123 yards on 20 preseason carries. Only about 30 percent make the roster as an undrafted Rookie. Fisher knew that Benny was capable of a lot of yards after watching him play Georgia Tech gaining 217 yards and 5 touchdowns. Just to get an idea where other local players stand, Zac Stacy (Vanderbilt) who was drafted in the 5th round struggled in the preseason with only 68 yards on 23 carries with 1 touchdown.
Who would take a chance on a 5'-10", 212 lb running back? To understand more about this manner???, you have to go back to when both Benny and Trent, Jeff Fishers son, played against each other in high school football. Benny played for Goodpasture and Trent played for CPA as a DB. Every time Benny would touch the ball it had to be Trent to save another touchdown with a textbook tackle. Jeff Fisher remembered those Friday night games. This was one of the many reasons Jeff kept the walk-on Cunningham on the 53-man roster; he remembered.
After his Rookie season, nursing a sprained ankle, Benny knows going into this season he will have to be back to 100% and he will be ready to have a break out season. Last year playing in 14 games, Benny had 261 yards on 47 carries. He had one game where he rushed for over 100 yards, 1 touchdown, 1 fumble plus he had 59 yards receiving on 6 throws. This year Benny will wait and when one of the players in front of him get injured or are just not running hard enough, Benny will take advantage of this opportunity and make the best of it. I expect great things from Benny this season.
For this 2014-2015 season, the Rams drafted a speedy RB from Auburn, Tre Mason, in the third round (75th pick overall) of the draft. Mason ran a 4.44 seconds at the combine in February 23, 2014. Mason runs with quick feet and a one-cut-and-go approach. This was the player Fisher was looking for.
This season expect Zac Stacy to be the Rams starter with Tre Mason coming in second. Cunningham may be the third choice but he knows with one injury you could lose your job. Good luck this season Benny with the Rams and look for more on Benny later in this season.
05 June 2014
Hits: 62
Goodpasture Alum Keenan Reynolds was in Washington D.C. in April. President Obama hosted the Naval Academy team for winning the annual Commander-In-Chief's Trophy, a competition among the three sevice academies.
Keenan played a very important part of Navy's sucess this past year, contibuting a FBS record 31 rushing TD's. He is a valuable asset and will be heavily counted on to take them to a bowl game again next season.

Keep up with Keenan on the Navy Site as he goes into his Junior Year.


06 February 2014
Hits: 287
The 2013 football team held their banquet on Saturday February 1, 2013 at the Donelson Church of Christ. The banquet closes the books on the 2013 season handed out season honors for quite a few deserving young men. The seniors will be greatly missed next season, as those returning will have big shoes to fill. All of the those awarded are listed below.
MVP (2)
#32 Jaylen Moore
#29 Carter Wiseman
DEFENSIVE MVP
#55 Wyatt Wolfe
SPECIAL TEAMS MVP
#5 Nic Adamopoulos
Most Valuable Offensive Lineman
#63 Austin Jones
Most Valuable Offensive Back
#16 Jordan Goff
Most Valuable Defensive Back
#26 Grayson Erwin
Most Valuable Defensive Lineman
#50 Jesse Moffitt
#54 Wade Arrington
Scout Team Player of the Year
#48 Dylan Vaughn
Big Hit Award
#26 Grayson Erwin
Academic Excellence Award
#29 Carter Wiseman
#21 Ryan Kemp
#13 Spencer Oskin
#15 Adam Randolph
#71 Samuel Thurston
#88 James Gibbs
#57 Wyatt Blessing
#9 Bryce Pemberton
Golden Helmet Award (Service)
#65 McKinley Richardson
#23 Ashton Sawyers
#88 James Gibbs
#38 Lane Thompson
CHAIN AWARD
#68 Rudy Camacho
#33 Chad Connors
Lifter of the Year
#56 Chance Robertson
#63 Austin Jones
Football Leadership Committee
#1 Carson Gregg
#5 Nic Adamopoulos
#33 Chad Connors
#34 James Moore
#56 Chance Robertson
#63 Austin Jones
#65 McKinley Richardson
#68 Rudy Camacho
Captains
#26 Grayson Erwin
#29 Carter Wiseman
#32 Jaylen Moore
#50 Jesse Moffitt
#54 Wade Arrington
Follow

Us On Twitter @gcssportstweets